November 24, 2009
Hi everyone!

I know it has been a long time since I've updated my website. Since I last posted, I've started a new website dedicated to outdoor cooking. www.camp-cook.com Have you always wanted to try Dutch Oven cooking? We have tutorials and members who can get you cook'n. Are you an experienced DO cook? We have a lot of great recipes for you. Take a look and see what you think!

I've been doing a lot of camping in the Dawg and I just love it! The more I camp in it the more I know I made the right decision to build it. For the last couple of years I've been camping all over the southwest, sometimes solo and other times with friends. It is perfect for my style of camping. I've attended a number of teardrop gatherings and had an absolute blast. If you haven't attended a teardrop gathering, you should find one in your area. This is especially important if you are thinking about building your own. It's a great way to gather ideas for your own build. The teardroppers always welcome folks who are thinking about building or buying their own trailer. Check one out. You'll be glad you did!

I recently added a small shelf in the galley to hold spices and other small items. With all my cooking supplies it seems like I can always use a little bit more room. I could reduce what I take along (and I should!) but that wouldn't be much fun…LOL! One of the fun things about these trailers is that you can always make little changes even after it is completed.

I've had some problems with the gas struts which hold up the galley hatch. Once the hatch was completed the struts wouldn't quite support the hatch. I knew I was going to need to upgrade the struts. Then the decision was made for me. One day I opened the hatch and one of the struts had completely pulled out. The other side was on the verge of pulling out as well. The mounting brackets weren't strong enough and wood where I attached them wasn't up to the task. Now I need to purchase stronger struts and make some "bullet proof" brackets. I want to say thanks for all the nice e-mails from folks who have stopped by the website. I'm hope that in a small way this site has inspired others to build their own trailer. In this day of high energy prices and environmental concern, teardrop trailers make a whole lot of sense.

Here's a few photos of the Dawg on the road!

Joanne




Joanne's Trailer Diary
Teardrops caught my eye a number of years ago when I watched a television show that highlighted these cute little trailers. Their diminutive size along with their art-deco shape immediately captured my attention. I found a number of online forums where owners and builders gathered to discuss their trailers. After spending quite a bit of time reading through the forums I decided that I might be able to build one myself.

Here's Dave trying out my first attempt at building a teardrop. I didn't realize that the plans I have are half-scale! Back to the drawing board.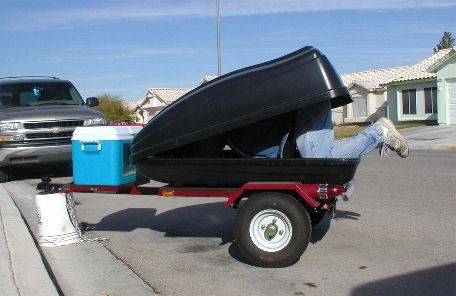 Although I love the classic shape of a teardrop, for a number of reasons I have decided to build what is often referred to as a Grasshopper. A Grasshopper is functionally identical to a teardrop, with a small sleeping compartment and a rear galley, but has an angular shape rather than the rounded shape of a classic teardrop.

Recently I have started thinking about the whole trailer concept again. This time I started thinking about how I would use the trailer rather than how I wanted it to look. I finally concluded that I want a trailer that strikes a balance between looks, functionality, cost, and amenities. I'm not going on the "Show Trailer" circuit, rather I want something I can hook up to my SUV on the spur of the moment and head out camping. Once I realized that my main goal was camping rather than impressing people with my craftsmanship, the design came together quite easily.

I have some skill in metal work, but almost no experience in wood work. Because of that I'm going to try to minimize the amount of wood work. With that in mind I came up with the following goals:
- Structurally strong
- Simple construction techniques
- Minimize cost
- Simple cabinetry
- Wide enough to comfortably sleep two ( I often have friends join me camping)
- Reasonable build time

This has led me to some specific design/construction criteria:
- Start with the existing boat trailer I have
- Use a grasshopper profile rather than a teardrop profile to simplify construction
- Use a Formica counter top from Home Depot in the galley
- Use plastic storage bins rather than constructing drawers
- 12v only, no 110v
- No sink or plumbing
- No built-in stove


Here are a couple of drawings I did to see if I could find a shape I like.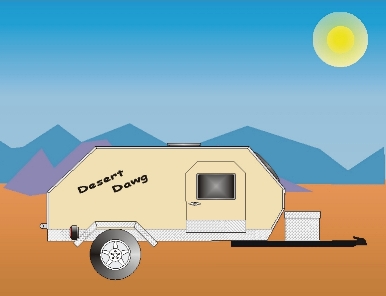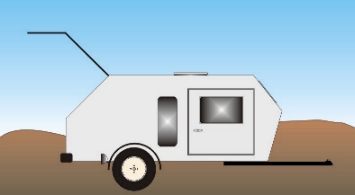 Follow along as I try to build my "Desert Dawg"!